About Native American and Indigenous Programs
In programs on the Native American and Indigenous Studies Path, you'll learn to pull from your lived experiences to cultivate your voice and gain skills that will set you up for success after college.
Programs on this Path are open to all Evergreen students with an interest in Native and Indigenous Studies. This Path addresses responsibilities and protocols for non-Native students to follow.
You can get involved in the Indigenous arts at Evergreen's the s'gʷi gʷi ʔ altxʷ: House of Welcome Longhouse Education and Cultural Center, the fiber arts studio, the carving studio, and more on the Indigenous Arts Campus.
Prepare for Careers and Graduate Studies Beyond this Path

Career Opportunities

Community-based learning
Education
Environmental policy and natural resources
Ethical writing and research
Ethnic studies
Government
Human services
Indigenous food sovereignty studies
Indigenous literature
Indigenous research
Indigenous visual arts
Public administration

Graduate School Opportunities

Education
Fine Arts
Humanities and social sciences
Law
Native American, American Indian, and critical Indigenous studies
Public Administration
Social Work
Teaching
Community Service
This Path gives you lots of opportunities to make a difference in the community. Many students find internships or volunteer work through our centers and institutes. 
You'll also have opportunities to work with Indigenous tribes throughout the region that connect with Evergreen on a regular basis, giving you the chance to learn from and work with them as a student.
Learn more about Evergreen Centers and Institutes
Indigenous Arts Campus
The Indigenous Arts Campus is a one-of-a-kind resource. The campus includes s'gʷi gʷi ʔ altxʷ: House of Welcome Longhouse Education and Cultural Center, a fiber arts studio, and a carving studio.
With these facilities and the amazing faculty and staff on this Path, you'll learn about Indigenous arts and cultures, craft your own works, and expand your understanding of Indigenous histories and cultures.
Learn more about the Indigenous Arts Campus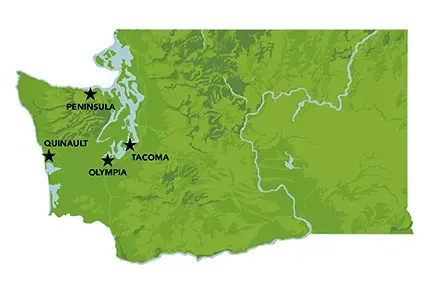 Native Pathways Program 
Some offerings on this Path are part of the Native Pathways Program. NPP is built on positive mentorship, academic rigor, community service, and Indigenous empowerment. Programs are hosted at different sites across western Washington, including at Evergreen's Olympia and Tacoma campuses.
NPP course offerings span subjects from creative writing to environmental history and much more, but always through a lens that honors Indigenous knowledge and culture.
Explore the Native Pathways Program