Image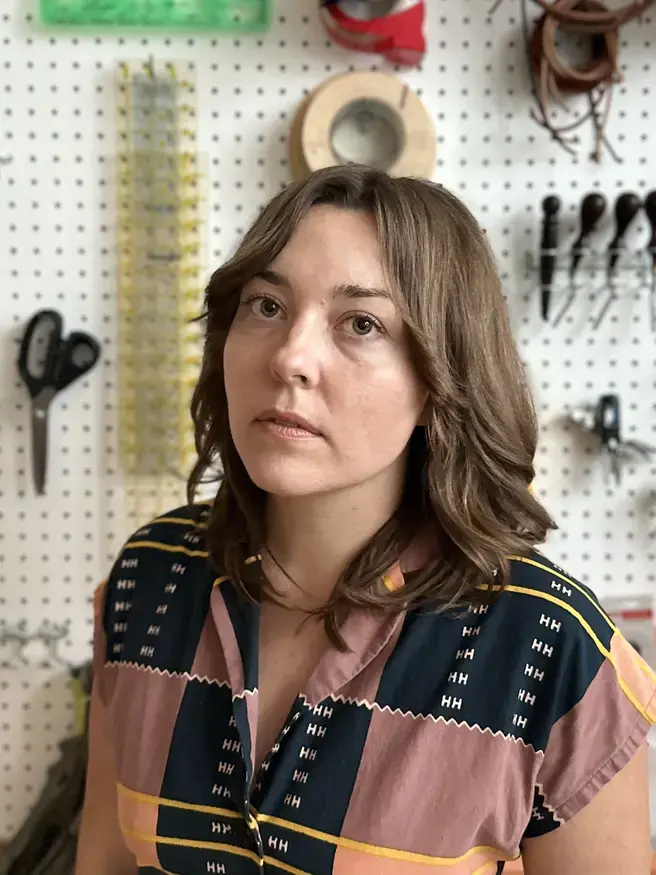 Alumni Programs is denoted as AP and Claire Beaumont is denoted as CB in this interview. 
AP: Tell us about yourself, who is Claire Beaumont? 
CB: I am a clothing repair specialist based in Los Angeles, California. I am a curious and resourceful problem solver and systems thinker. I am rich in my relationships and I prioritize time with friends and family above everything else. The most important thing to me is that I am aligned and happy in how I spend my time - especially in my work. I am building a business for myself that models my values, services I'm not currently seeing offered at large, and how I want to show up in the world.
AP: What brought you to Evergreen? 
CB: I was drawn to Evergreen because I wanted to study sustainability in the apparel industry, and I looked into literally every fashion program in the world, I think, looking for a program that was thinking differently. I felt the whole apparel industry needed to be overhauled and I wasn't interested in learning (or going into debt studying) how to make clothing in the same way that got us into this mess. I wanted to go to a school that was thinking differently from the core and modeling new ways of existing. Finances were also a big part of it - I could afford one year at a private design institution, or four years at a state school. When I saw that Evergreen offered textile programs alongside organic farming, I knew I was in the right place.  
AP: Were there any classes or faculty that inspired you while at Evergreen?  
CB: Yes, the program that drew me to Evergreen was a Fiber Arts program with Gail Tremblay where I studied weaving, felting, and basketry. On the first day of class she shared how excited she was as she only taught this class once every three years. I remember thinking, 'oh no, I came here to study textiles, and they only have one class every three years!'. So, I set up several ILCs with Gail as one of my academic supervisors to help further support my work and was able to design my own education based on my interests. I also had a yearlong Business and Sustainability class alongside a yearlong internship with a small product design studio on Bainbridge Island called Grain Design. I was their first intern and eventually their first employee after I graduated. Though they weren't working in apparel, I got the most amazing design education and production education working with them because they made most products themselves, thought critically about every material they used, and only made products they felt were truly necessary. 
CB: I am the sole owner and employee at this time. My business operates out of my sewing studio and a PO Box. Most people find me on Instagram or through word of mouth. Clients reach out with photos for a quote, fill out a repair submission form, pay a deposit, mail in their items, I repair the piece and send it back to them. I specialize in the really sentimental and gnarly pieces that most tailors or sewists turn away - everything from lightweight silk to heavy duty bags and outerwear - there's not much I turn away.  
I have been studying repair for the last 10+ years as well as clothing construction, pattern making and leatherwork. Clothing repair ended up being the niche within my apparel design skill set that was the perfect synthesis of my skills and values. I have the power to make new clothes from scratch, but I choose to use my powers to repair what already exists because there aren't many people doing it and it feels like the most important outlet for these special skills I have invested in. 
The emotional value of clothing is a big motivation for me. It is such a special thing that we form emotional bonds with objects we find in life. It doesn't matter where they are from or how they were made but emotional value is an important aspect of sustainability. It is what inspires you to want to hold on to something.
AP: How do you define sustainability? 
CB: To me, sustainability is not just about the production of an item; it means thinking about the lifecycle of an object and the stewardship of that object - from the materials it was made from to the disposal or regeneration of that material into its next form. I have a holistic philosophy about sustainability that has as much to do with people, relationships and emotions as it does the thoughtfulness of the design and the environmental impacts.  
I think something else that relates to my work is the Japanese idea of Ikigai. It is the marriage and intersection of four things: what you are good at, what you can make money doing, what makes you happy, and what the world needs. These past few years I have realized that is what clothing repair is for me. I am fulfilled in my work because it can support me financially, it makes me happy, the world needs it and I'm good at it.
AP: What is the biggest challenge we face when it comes to recycling clothing?  
CB: Infrastructure. We do not have the infrastructure in this country, or globally, to recycle textiles at the volume in which we consume them. It's challenging because on one hand, brands and businesses need to be held accountable for what they produce and take responsibility for the (often short) lifecycles of the products they make. On the other hand, consumers also have some responsibility in how much and how often they consume new products, as well as how long they choose to hold onto them. We need more options and solutions to extend the life of products that already exist and to transform waste at the end of its life.
AP: Who opened doors for you?  
CB: There are too many people to count that have identified and opened doors for me. I have to give credit to my family and friends for being the biggest cheerleaders and sounding boards for me - I feel so supported by them. I really believe so many of my opportunities came from the genuine love and support of others believing that my work needed to exist and sharing it through word of mouth.  
I feel like I have to give myself some credit, too, for knocking on the doors! I am proud of myself for how fearless and curious I've been making countless cold calls and bold moves over the years, putting myself out there looking for new opportunities. I have had so many teachers and a very nontraditional education and I have found every mentor and peer by knocking on doors.  
A defining opportunity in my career was my first big job working in the Filson Restoration Department in Seattle. My sister worked there and shared the position with me, though I lived in NYC at the time. I applied, got the job, moved home and that job was a gateway for me to the rest of my career. It was a brand that manufactured most of their products in Seattle and had since the late 1800's. They had a lifetime warranty and built this department to start investing in the old returned and damaged bags and we artfully restored and resold them with another lifetime guarantee. The opportunity to work at a factory, learn about all of the industrial machines, and get to learn from the people working there was a life-changing experience. I also met my partner at that job, so everything really started there for me.
AP: What impact do you hope to make through your work? 
CB: I want to inspire people and show them what's possible. Often people don't believe many of the things I work on are salvageable. I'm motivated to educate people about what's possible and inspire them to think differently. So many people find me through Instagram and reach out to let me know that my work has inspired them to save something they thought was too far gone or just let me know how much my work resonates with them. It feels so good to know that despite the challenges of the internet, it still serves as an amazing platform to share ideas and meet people with shared values.  
On a personal level, the way that I want to feel in, and about, my work was inspired by how I spent my time at Filson. I was able to work on one bag per day, I would choose the bag I was inspired by that morning, take a polaroid photo, and then completely deconstruct the bag. I had the autonomy to redesign aspects of the bag, put new color palettes together, replace the leather, patch the fabric, and then stitch it back together and put it up for sale. I have had several jobs since then, but what stays with me is how fulfilling it was to keep one thing out of the landfill every single day. I can be tempted to want to change the whole apparel industry but when I think about what I am capable of as one person, I know I can repair one item every day and pour all of my feelings and inspiration into that one thing. At the very least I got to keep one thing out of the landfill that day and put my creativity and life-force into it.
AP: What advice would you give current students studying at Evergreen today who will join you as alumni? 
CB: I think a big one is to trust your gut. I think a lot about how I am the same person at the core that I was at 5, 15, 25 years old. I have always known how I wanted to feel and what was interesting to me, but sometimes I would second guess myself. I wish I trusted my instincts and skills even more from a younger age.  
The second thing would be to find a mentor and/or accountability partner. I wish I had a supervisor or accountability partner to support me alongside my education and career development. It is so cool that you can create your own degree at Evergreen, but it can be hard sometimes when you are younger to have the perspective of what skills you might need in the future. So, it's nice having someone else who can be a sounding board or mirror for you along the way to help plan the trajectory of your studies. I wish I would have done a thesis project or worked more with an advisor that could have helped me wrap up everything I studied at Evergreen to better synthesize the scope of my work and studies. 
AP: What is your superpower? 
CB: I would say optimism is my superpower. In my work, I believe I can fix just about anything and I can find a silver lining in an otherwise depressing situation. On the rare occasions I think I can't do something, my community and clients sometimes reflect back to me how unstoppable I am and believe I can do it. If I can't find the optimism, then I fall back on my curiosity, and my curiosity sends me on a journey and gets me excited again; so I guess curiosity feels like a superpower, too!