Campus job postings are now hosted by Handshake!  Watch a short video tutorial for info on navigating the new system.  Instructions below walk you through activating your account and searching for jobs and internships. 
 
Set up your account (if you haven't already)
If you received an email from Handshake about activating your account start by clicking the link provided in the Handshake email.  If you did not receive an email, or you can't remember your password, start here:
1. Go to https://app.joinhandshake.com/login
2. Select your school (listed as The Evergreen State College)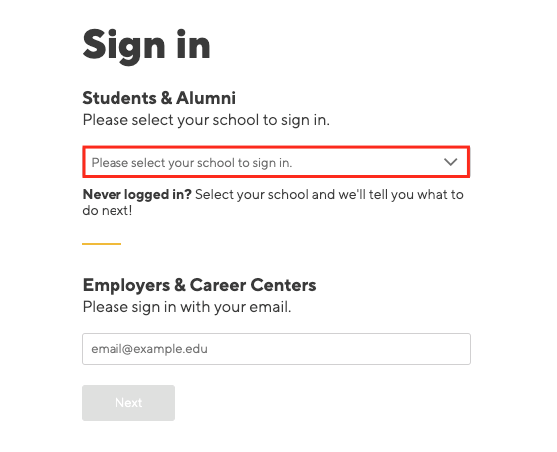 3. Sign in with your Evergreen email address.  
Enter your Evergreen email address and click on Next.
4. Select Set your password (note: it may also give you the option to click on Forgot Password)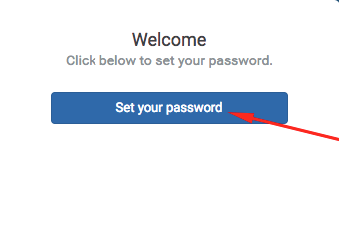 6. Follow the instructions sent to your email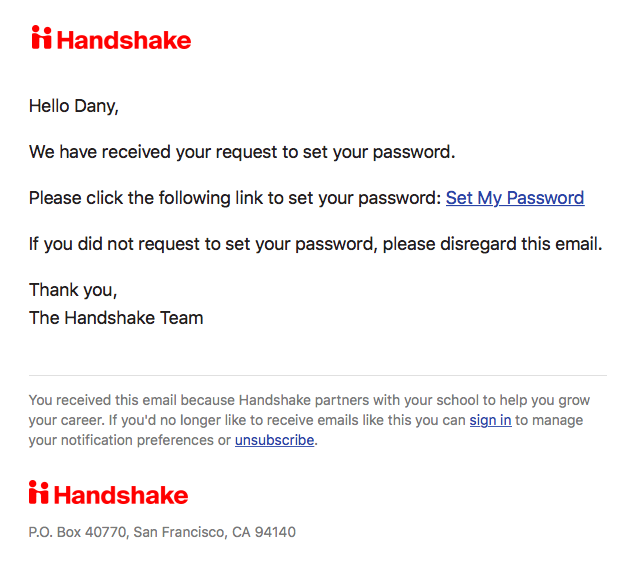 Searching for Jobs and Internships
With thousands of employers posting collegiate hire jobs on the platform, Handshake is an incredibly powerful tool for your internship and job searches. Taking time to understand Handshake's search functionality will help you identify the best jobs for you. 
Start by clicking on Jobs in the upper-left corner of your home page. The Job search page will load by default. 
On this page, there are various options available to view available jobs and narrow down your search.
Search using keywords, job titles, or employers in the upper-left search bar. 
Search by city, state, or zip code by clicking Location.

Please note that the location filter defaults to a 50 mile radius. 

Filter your search by job duration (full-time, part-time), as well as by job type (on-campus, internship).
Click on All Filters to see more filter options –– once you've added all desired search criteria, click Show Results in the lower-right corner of the filter popup. 

Job types
Paid roles only
Work study
Interviewing on campus
Employer preferences
Work authorization 
Industry
Job function
Major
Employer
Labeled by your school
Saved searches
Another great way to continue your search for jobs and internships is to create a saved search and set job alerts. You can learn how to use saved job search and alerts by checking out the following resources: 
Saved jobs
To save a job for later, click the bookmark icon. For more information, refer to My Saved Jobs in Handshake.

Applying for a Job
1. Click on the job you're interested in applying to from the list that appears on the left. You'll see the job details load on the right side of the page. 
If you'd like to view the job on the full page, click on the job title from the display on the right. The job posting will open in a new tab: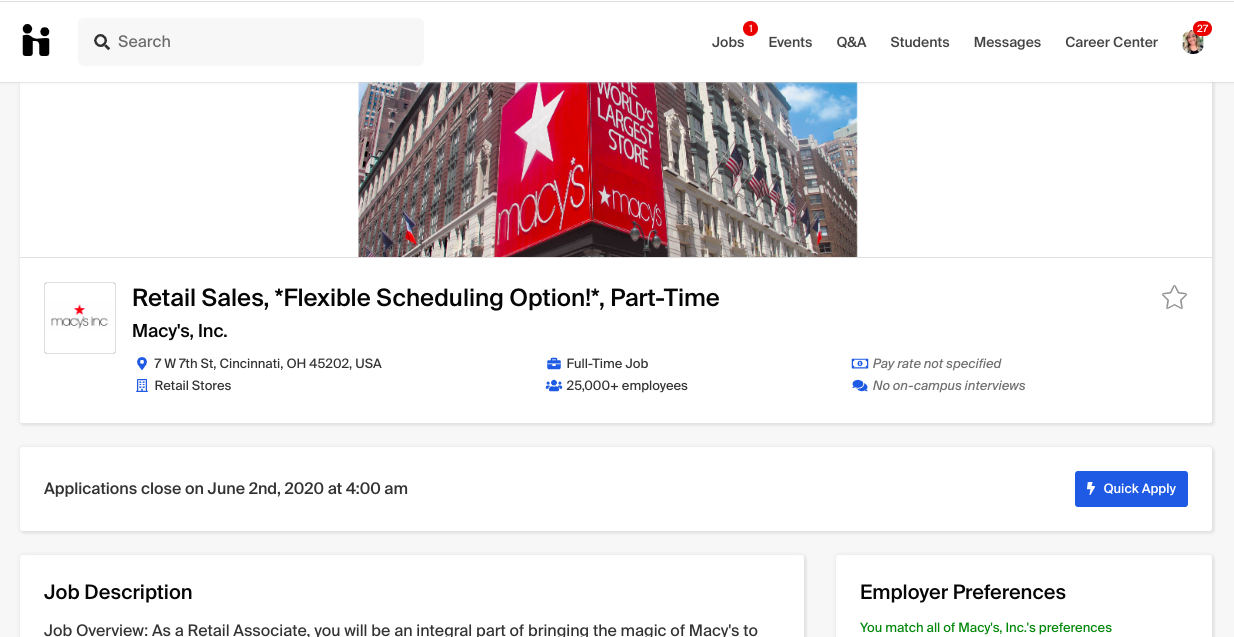 2. Review the details and qualifications for the job to make sure it's a good fit.
Pro tip: you can favorite a job if you're not quite ready to apply yet. This will allow you to find the job again easily, in your favorited jobs. 
3. When you are ready to apply, click on Apply, Quick Apply, or Apply Externally, as applicable for that particular job. 
Quick Apply: indicates that the application isn't external, there are no documents required for that job posting, and you meet all of the employer preferences
Apply: indicates that at least one document is required to apply
Apply Externally: clicking this will open a new browser page with the application hosted on a site outside of Handshake.

You will receive an email confirmation of application from Handshake once this button is clicked, but you will have to complete the application on the external site in order to fully apply. Handshake cannot track this activity.
If documents are required, you'll see a pop-up similar to the example below. It will detail what documents are required, and you can either select from existing documents or upload a new document at that time. 
Once you've selected the required documents, click Submit Application in the lower-right corner of the pop-up.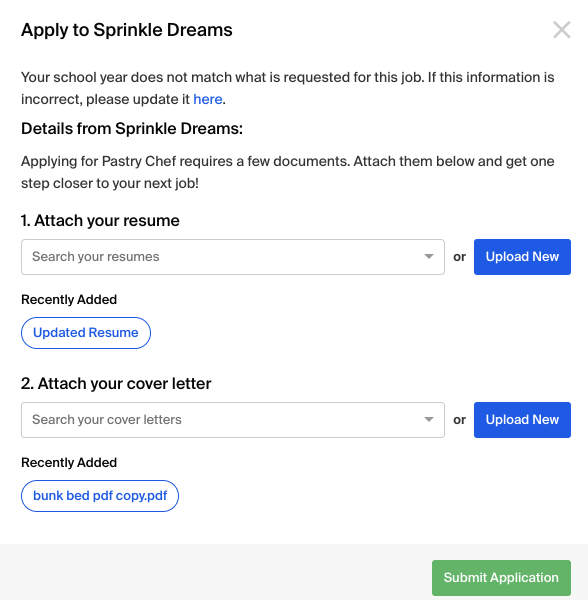 4. When your application has been submitted successfully, you may see a confirmation email like the one below: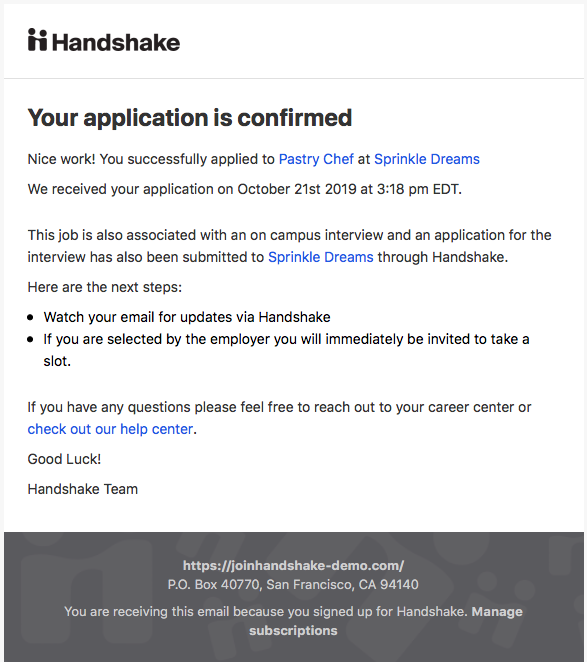 Questions?  Contact the Student Employment Office at seo@evergreen.edu.