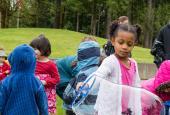 TACOMA – The Evergreen State College's Tacoma campus located in the historic Hilltop Neighborhood offers a bi-lingual, Early Childhood Education Program which will help prepare students for a career working with children while earning their bachelor's degree in liberal studies. 
"We are excited to offer this program at Evergreen Tacoma," said Dr. Marcia Tate Arunga, Dean of Tacoma. "This program helps those interested in pursuing a degree with an emphasis in Early Childhood Education and offers a variety of courses that will help students grow a greater understanding into language and culture along with how to work with families and communities as we all work together to build solid foundation for our children's future."
Fall 2022 courses for this program include Working with Families; Language, Culture and Young Children; and Tribal Sovereignty and Early Childhood Education. Classes are virtual and are held in the evenings to allow ease for those working full-time. 
The Evergreen State College offers an affordable education and $9000 scholarships are available for students working for an Early Achievers site through Child Care Aware's Washington Scholar's program. 
Evergreen's Tacoma campus is a small and mighty liberal arts program focused on community, flexibility and convenience. Contact Shawn Harris if you are interested in the Early Childhood Education program at Shawn.Harris1@evergreen.edu or by calling 253-680-3000. 
###