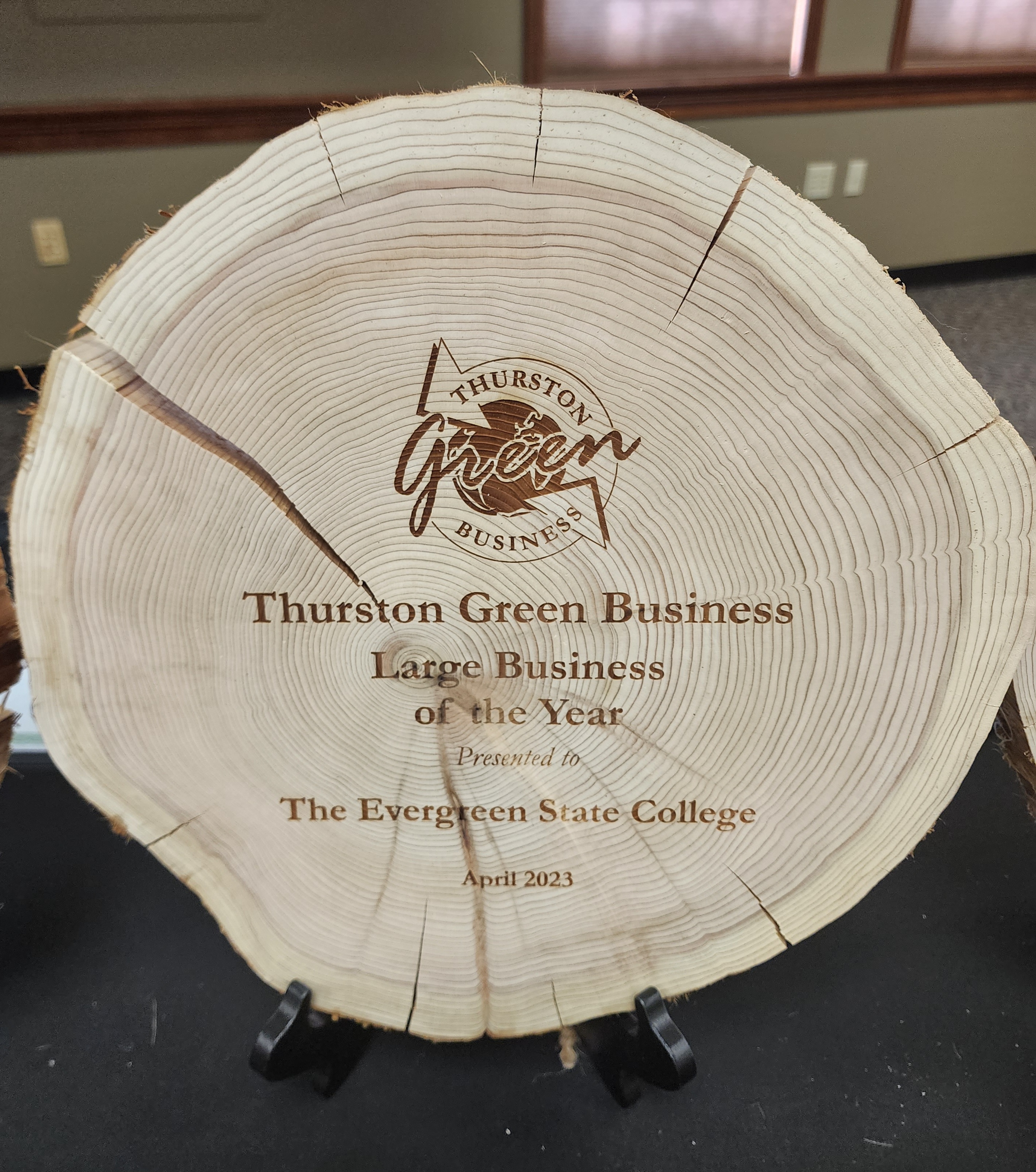 The Evergreen State College was awarded the Thurston County Chamber's Green Business of the Year for a big business at an award ceremony on Wednesday, April 12.  
The program assesses an applicant's actions in seven key areas including: 
Green Business Practices 
Energy Efficiency 
Transportation & Community Trip Reduction 
Waste Reduction and Recycling 
Water Conservation 
Social Performance 
Sustainable Product Lifecycle 
Evergreen has two campuses, one located on the shores of Eld Inlet and surrounded by a 1,000-acre forest, and the other is in Tacoma within the historic, urban Hilltop community. The college was established with sustainability in mind and a commitment to environmental education.  
"Since 1971, we have been intentional about our campuses, being mindful of our built and natural environment, and constantly improving," said Evergreen's president, Dr. John Carmichael. "From our designated LEED gold-certified buildings, forest ecology, beach and salmon restoration projects, to the sustainable values woven into our business practices and academic curriculum in the classroom, it is a distinct honor to have the hard work of the college to be good stewards of the environment recognized with this award." 
 
Evergreen walks its talk around environmental stewardship by generating 35,000 kWh of solar power on an annual basis; is proud to be a 100 percent green power customer for both of its campuses; hosts electric vehicle charging stations; supports an active and engaged student-led Clean Energy Committee that supports the creation of models for climate solutions through collaborative on-campus research;  deploys energy efficiency endeavors, recycling and composting programs in most buildings. A team of dedicated students, staff, and faculty are continuously learning and implementing new sustainability practices.  
In recent years, Evergreen established two new centers – the Center for Entrepreneurial Leadership and Transformational Change developing social and sustainable businesses, entrepreneurial, and leadership skills, as well as the Center for Climate Action and Sustainability which focuses on just and equitable solutions to the climate crisis and a hub where students, faculty, staff and the surrounding community can come together in search of new ideas and solutions.The two centers continue to collaborate on climate change, sustainability, business, public policy, and more throughout Evergreen's curriculum and beyond. Evergreen's campus has over 700 acres of preserved, undeveloped lands that students use as a living laboratory and the college's Master of Environmental Studies program provides a learning environment that invokes creativity and prepares the next generation of critical thinkers with the research skills required for professional environmental action work.  
To learn more about The Evergreen State College, please visit evergreen.edu.