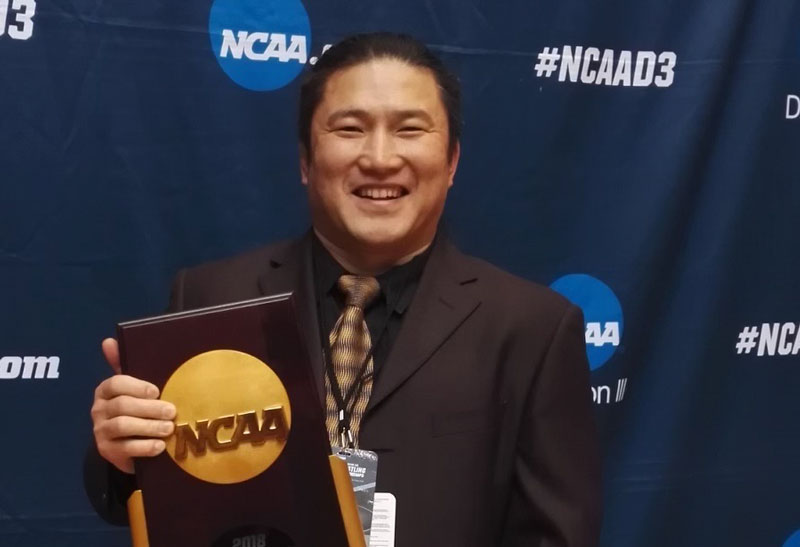 OLYMPIA – The Evergreen State College has hired another exceptional coach to start up its wrestling teams. 
Evergreen is now the only four-year college in Washington to offer a wrestling program and Fan Zhang will be leading the women's team for its inaugural season. 
"We are excited that Fan has chosen to bring his coaching talent to Evergreen," said Zeb Hoffman, Assistant Intercollegiate Athletic Director for The Evergreen State College. "His history of building champions as well as his experience as a wrestler is exactly what we need to build a top-notch, wrestling program."
Zhang has been the head coach for women's wrestling at Simpson University (CA) and Grays Harbor College here in Washington and assistant coach at Wartburg College in Iowa.  He also was the coach for the Iowa women's wrestling national team for Fargo. His coaching has led to several national championships.   
As a wrestler in China, Zhang was a seven-time, national champion. 
Evergreen announced it would be starting teams for men's and women's wrestling and cross country late last year to complement the college's men's and women's soccer, basketball, track and field and women's volleyball teams. 
In late December, Evergreen announced that Greg Ford, Jr. had been hired on as the men's wrestling team coach and the college hosted a signing event where 20 wrestlers signed letters of intent to become Geoducks. 
Coach John Lane, well-known in the wrestling community with over three decades of coaching under his belt, will be on board to help Coach Zhang and Ford as they build their wrestling teams. 
"This new wrestling program at Evergreen is a great thing for the community," said Lane. "With the coaching staff being brought on, we have the foundation to build a champion team as well as give wrestlers from Washington state the opportunity to wrestle and attend a four-year college without moving out of state."
For more info about Evergreen athletics visit www.gogeoducks.com. To learn more about The Evergreen State College, visit evergreen.edu.
###