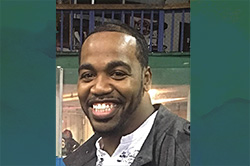 OLYMPIA – The Evergreen State College has hired an exceptional coach to start up its men's wrestling team.  
Greg Ford, Jr. be joining Evergreen athletics after the holidays to prepare for the college's first wrestling season in 2023.  
"We are very excited to be adding this talented coaching staff member to help us kick off Evergreen's new wrestling program," said Zeb Hoffman, Assistant Intercollegiate Athletic Director for The Evergreen State College. "Greg has a strong wrestling background and has helped raise several athletes to the national level. We look forward to his passion and leadership to help us build this wrestling program." 
Ford will lead the men's team. He has been involved with wrestling since he was a small child, winning his first state title when he was only five years old. He has coached for Washington's National Wrestling Team since 2016, has been the Junior Director for Washington State Wrestling since 2018, has his gold coaching certification from USA wrestling and has also been the head coach for two high school wrestling teams.  
Evergreen announced it would be starting teams for men's and women's wrestling and cross country earlier this month to complement the college's men's and women's soccer, basketball, track and field and women's volleyball teams.  
Entrepreneurs, Kim Kaufman and Jimmy Goldsmith, have made a $150,000 commitment to give $50,000 per year for the next three years to support the new wrestling and cross-country teams.  
"Kim is an Evergreen graduate and her husband Jimmy has deep experience in the sports industry. Their donation will get our new teams off to a great start, "said Abby Kelso, Evergreen's Vice President for Advancement. 
"We are beyond excited to partner with Evergreen in launching these new athletics teams. It's the perfect project aligned with my passion for Evergreen and Jimmy's passion for sports, "said Kaufman. 
"With the popularity of youth wrestling on the rise, the wrestling program is of particular interest to us. We're excited to cheer on the team, especially in their first few years,"added Goldsmith. 
Evergreen athletics will host a signing event at 3 p.m. Friday, Dec. 30 where several wrestlers will sign their letters of intent to become Geoducks. The event will take place in the Evans Hall lobby on the Olympia campus.  
For more info about Evergreen athletics visit www.gogeoducks.com. To learn more about The Evergreen State College, visit evergreen.edu.  
###