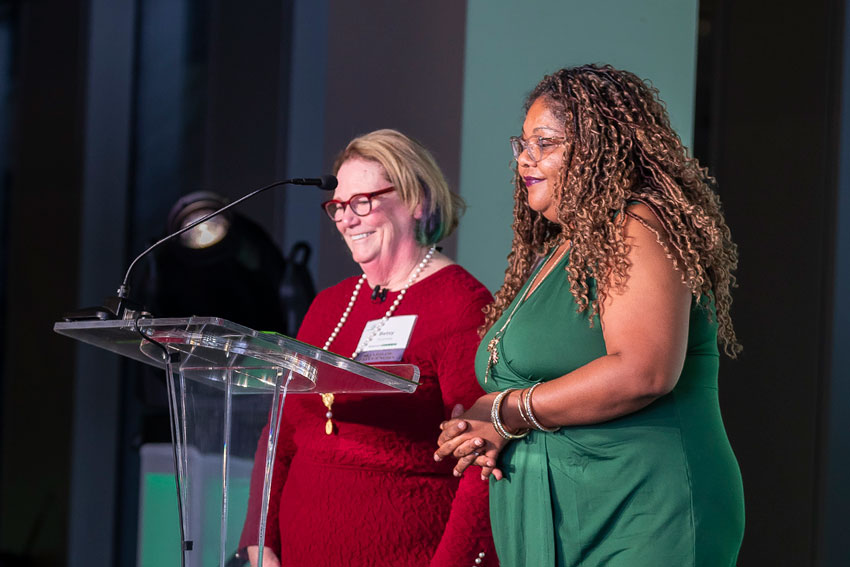 The Evergreen State College has publicly launched its first-ever college-wide fundraising campaign, Forever Green, to raise $55+ million to expand financial resources for students and programs.
The campaign will increase funding for scholarships, emergency funding, and holistic services for students. It will expand learning opportunities to prepare students with the skills to solve complex problems in our economy, democracy, justice, as well as climate and the environment. And it will increase the college's support of Native arts and cultures in the Pacific Northwest and beyond with the leadership of Evergreen's s'gwi gwi ? altxw: House of Welcome.
Alumni, donors, and champions of the college gathered Tuesday, March 14, 2023, at the Seattle Art Museum for a celebratory kickoff for the public phase of the campaign hosted by The Evergreen State College Foundation. During the event, Evergreen's President, Dr. John Carmichael, and Executive Vice President, Dr. Dexter Gordon shared how important this campaign is not only for students at Evergreen but for the broader community.
"Clearing away obstacles to teaching and learning was a founding mantra of Evergreen," explained Dr. John Carmichael, President of Evergreen. "It remains our first principle today. And one of the biggest obstacles in our path to teaching and learning is funding. We're at a fork in the road. We're either going to keep our footing and prosper on our own path or be transformed by forces outside of our control. It's on us. Right now. As president, I feel that acutely. We can shape our own future, or it will be shaped for us."
Donors have contributed $47.8 million towards the $55+ million-dollar goal – and at the launch on Tuesday evening, two new $1 million-dollar gifts were announced, one from an anonymous donor with deep ties to the college and the other from John Hennessey, a 1977 graduate and member of the foundation's Board of Governors.
"Contributing to Evergreen creates access for those who are often at the bottom of the economic ladder, to have a leg up, to have an opportunity to climb, to have an opportunity to contribute meaningfully to our shared democracy." Dr. Dexter Gordon, Executive Vice President for Evergreen told the packed house on Tuesday night. "When American democracy is revealing at once its resilience and its fragility, Evergreen needs your support. Contributing to Evergreen contributes significantly to the strengthening of American democracy."
For more than 50 years in Olympia and over 25 years in Tacoma, Evergreen has enriched the lives of more than 46,000 Greeners who have taken their education to build successful careers and make positive change in the communities where they live, work and participate.
Forever Green will support diverse, next-generation leaders–61 percent are women, 20 percent are first-generation college students, 35 percent are low income and 32 percent are students of color. Ninety percent of first-year students identify restoring the environment, understanding and appreciating differences, and contributing to the community as important reasons why they chose Evergreen.
Gifts to the campaign have already increased student scholarships as well as emergency aid and launched a new Center for Climate Action and Sustainability where students, alumni and community members come together to find climate crisis solutions. In addition, early gifts have helped Evergreen's s'gʷi gʷi ʔ altxʷ: House of Welcome expand its impact as a grant-maker to individual artists and to Native Arts programs at other universities.
"It's incredible to witness the collective impact of Evergreen's generous community," said Abby Kelso, Executive Director of Evergreen's foundation. "Alumni and friends from every decade are digging deep for students and building a bright future for Evergreen. Already the campaign has increased student aid by 47%. Imagine where we'll be by June 2024!"
The campaign, which began its silent phase on July 1, 2019, will conclude on June 30, 2024. To learn more about how you can help Evergreen students on their unique paths, visit the campaign's website.
We were built for times like these, built for what's next. At Evergreen, we will forever go our own way, but we can only do it together.
If you are interested in joining the thousands of Greeners who are called to make the world better, visit evergreen.edu.
###