Meet your Orientation Student Geoduck Guides.
Don't miss out on this opportunity to kickstart your college adventure with the support and guidance of our Orientation Student Geoduck Guides. The OSGGs are committed to ensuring your smooth transition into college life with Welcome Fest, Games, Movie night, Glow night, Craft Cafe and much more.
We can't wait to welcome you to the Greener Community at your Orientation!
Check out our events on Instagram all year long at greenerorientation.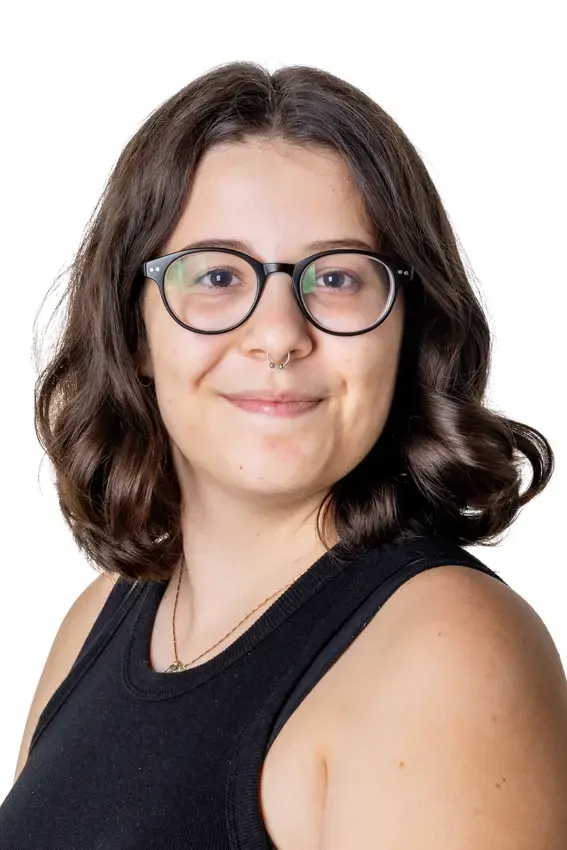 Hello! My name is Ella, and I am an upcoming second year at Evergreen! I am studying Literature but also have a deep interest in Classics. During the school year, you will often see me at the Student Activities office where I work to help guide students in starting clubs at Evergreen relating to all sorts of topics! A few of my hobbies include reading, any type of crafting, and hiking. My favorite thing to do on campus is to hike around on the trails throughout the woods surrounding Evergreen. I came to Evergreen last year from out of state which was a really amazing experience to have. Being so far from where you've grown up is daunting, but I was able to grow and flourish here on campus and I cannot wait to help any new student to have the same experience I did. If I had one tip that I could give to every incoming student, it would be to attend campus events. They are such a great way to meet new people and interact with the faculty you'll see around campus. They are also an amazing way to find community on campus outside of your housing. There is such a wide variety of events and clubs that everyone is bound to find something they will enjoy!
Hello, my name is Everett, and I am going into my second year at Evergreen. I am studying education and history. I enjoy knitting, writing, and playing the flute. On campus, I love to hang out in the library or out at Geoduck beach! Evergreen has been a wonderful experience for me, and I hope you enjoy it too! When I was a new student, walking around campus was the best way to get acquainted with where things are. Grab a friend and try to find your classes before the first day. Speaking of classes, talk to your faculty! If something is affecting your academics, it is always better to let your faculty know. They want you to do your best and are willing to work with you. In general, do the work and you get the credit. It can be easy to let all the reading slip away from you. Focus on creating good study habits and a planning system that works for you. I like the dated planners sold at the bookstore for the academic year. Connection is going to be your best friend at Evergreen so try joining a club, attending campus events, or even making a study group with your classmates. Connections will help make your college experience easier and give you some delightful stories.
Hello! My name is Nathan, and I am a senior here at Evergreen State College! When I started here as a first-year non-traditional student, I was not sure what area of study I wanted to focus on, but Evergreen allowed me the flexibility and breadth to explore and narrow down my interests. Through this, I have been able to discover my passion for studying early 20th century social history. I appreciate the focus that Evergreen places on individual projects both within courses and in ILCs (Individual Learning Contract), and both have given me incredible opportunities to build depth of knowledge in the topics that matter to me. Outside of studying social history, I spend a lot of time in the performing arts–both in the Evergreen Singers on-campus and in theatre out in the community. I also love reading, puzzles and board games, and am also known to nerd out about theme parks! During the school year, you might also see me hanging out in the SEAL (Student Equity & Arts Lounge), so feel free to stop by and say hi!
Hello my name is Pearl. I am a first-generation college student that is pursuing a path in Clinical Psychology. My specific research interests lie in the implementation and evaluation of efforts that seek to change how structural drivers of mental and societal disparities among minorities throughout their lifespan across multiple generations, and how they can be bolstered through community-based programming and policy change.
I was born and raised in Portland, Oregon; and have been a Washington state resident for almost 7 years now! I love talking about and eating all kinds of food. I enjoy roller skating, yoga, and watching true crime documentaries.
My time at Evergreen has been a constant learning experience in every single way, shape, and form. I am incredibly proud to be a part of a learning environment that is as unique and cerebral as Evergreen is. Every fellow Geoduck I have befriended has been so supportive; emotionally, socially, and educationally. We (Greeners) really do dig deep for one another and want to see each other do the best we can.
Note for new Geoducks: You are going to make mistakes. Now is a great time to practice learning from them.
My name is Akemi (she/they) I'm in my fourth and final year at Evergreen and have been studying Visual arts, history, feminist psychology and cultural studies. I've been working for the Student Activities office since my second year, and I've been the Graphic Artist for the on-campus student run paper; The Cooper Point Journal, since my third! In my free time I love going on adventures, going swimming, to the downtown farmers market, painting and playing video games. As a mixed student, finding community at Evergreen was very important for my health and sense of belonging on campus. Resources that helped me a lot were the CPJ and the BLISS office that put on weekly student ran events for BIPOC and LGBTQIA+ students on campus. Welcome to Evergreen, I hope this becomes your home as much as it has become mine.  
What's good y'all?! I'm Gabby, I use they/them/elle pronouns, and I'm a Black, First-Generation college student attaining my dual degree at Evergreen. I'm a transfer student and this is my third year at Evergreen which makes me a super (duper) senior, fulfilling their last few upper division science credits with environmental biology and chemistry classes in the Fall-Spring quarters. I've also taken classes in traditional medicine, psychology, and the Spanish language at Evergreen. My hobbies include cooking new recipes, thrifting the finest fits, and reading banned books. I also have interests in musical theatre and graphic design!
Being a Black student from the East Coast in a predominately white institution across the country can be isolating and I'm currently working with a community of students to re-establish the Black Student Union, which I hope will serve as a social and advocacy hub for the Black students on campus. Through my role as Orientation Leader, I plan to encourage other students of color to re-establish many of the disbanded racial affinity groups here at Evergreen and ensure that ALL students feel supported academically, socially, and emotionally. Evergreen is fueled by student power so my advice for incoming students is to identify where their individual power lies, recognize it in others, and intentionally engage in communities that uplift that power. Evergreen has "something for everyone" but if you happen to find something's missing, don't be afraid to build it yourself! DIG DEEP!
Hi all! I'm Alex, and I'm a senior here at Evergreen State College. I'm an Anthropology Student interested in the Nordic world, and also one of the people who made Evergreen's Chibi Chibi Con happen. Evergreen has proven great for learning about cultures, and with programs like Ireland in History and Memory, I've even been able to visit some of the places I've learned about. Evergreen is a great place for both studies and extracurriculars. I can't think of another college that would allow for a student-run convention to take place after all. I love the forest that surrounds the campus, and I'd recommend it for anyone who needs some space from everyone for a little bit. And above all, I'd suggest student activities if you are looking to get involved in something. From cons to gaming to cultural clubs, there is a little something for everyone here. Evergreen is great for students interested in making a difference, both in themselves and in their community.
Hi, my name is Avery, and I am a Senior Science Student with my emphasis in all things space. Evergreen has given me the opportunity to explore many different scientific fields. The best thing about the sciences on campus is that it is in our backyard! If you see me on campus, give a shout out. I am proud to be a 3rd generation Greener. Welcome to Evergreen new Geoducks!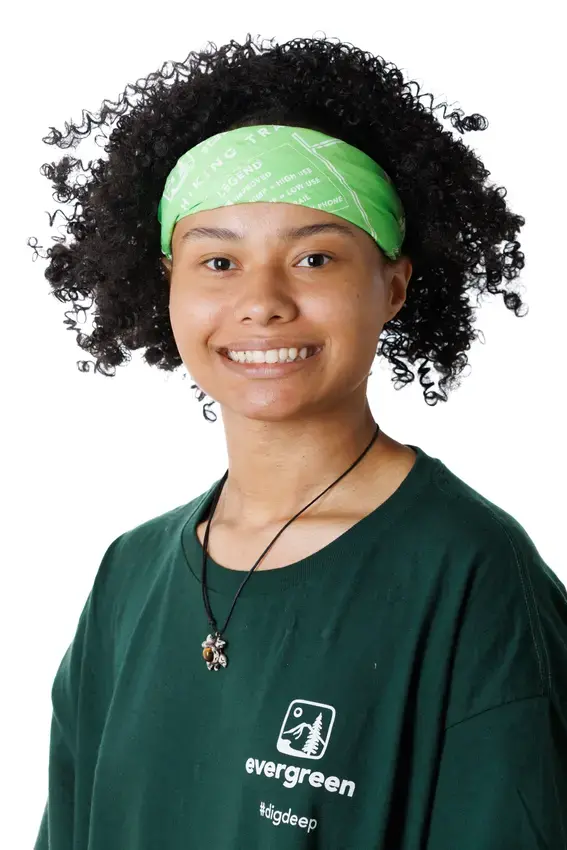 What's up everybody?! I'm Aalijah (she/they pronouns), and I'm an artist and musician from Kansas City, but this will be my third year as a Washington resident and second year at Evergreen. As a senior here at Evergreen, I'm so excited to be your guide and welcome you to campus!
 During my time at Evergreen, you might spot me working in the Student Employment office, chillin in the library or at TRiO, or attending the mix of on-campus events. I'm also a member of the soon to be re-established Black Student Union, so you may see us around campus soon! Also, you'll often find me on stage at open mic nights (check out Rhythms Café downtown or Writer's Open Mic right here at Evergreen), lost in my many art projects, or simply soaking up the natural beauty that surrounds us.
 When it comes to academics, I'm all about connecting the dots between different fields of study and understanding how they relate to us and the world around us. Evergreen's unique spirit of exploration is what first inspired me to attend, since then I've crafted my own academic path. My areas of emphasis include Mathematics, Psychology, and Fine Arts, with a sprinkle of African American Studies and Neuroscience. The freedom to mold your education here is what I love!
 My advice for incoming students is to make connections! I know that finding community can be hard at times, especially when there are many barriers in our world, but there are so many amazing people waiting to do the same. Always remember that you belong!