Image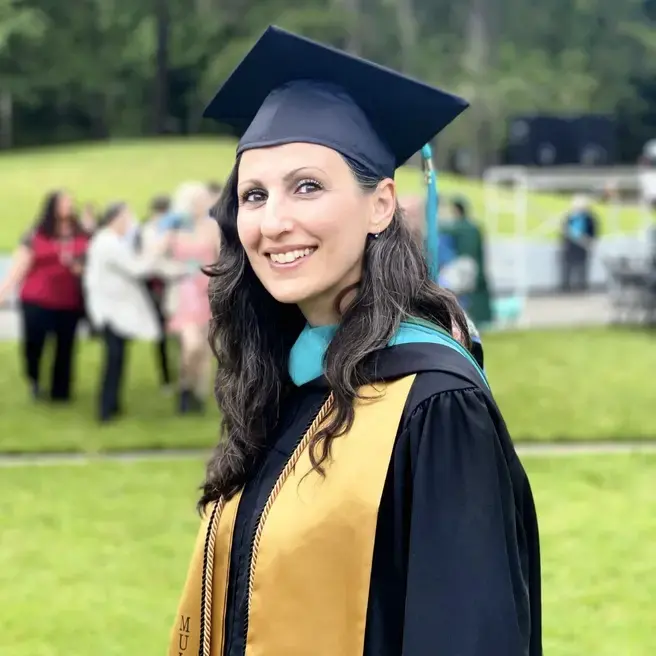 Alumni Programs is denoted as AP and Jasmin Faulk-Dickerson is denoted as JFD in this interview.
AP: Tell us about yourself Jasmin.
JFD: I consider myself a multi-identity person, as a child of two very different cultures, I had a neo-exploratory childhood in Saudi Arabia as part of the first generation with bi-cultural parents. My father was born and raised in a newly founded Saudi Arabia (at the time) and my mother was from Florence, Italy. I am also a proud immigrant, having moved to the US 23 years ago. I am very proud of my journey. Today, I am a mother to three wonderful sons who have made my life the greatest reward. I am also an advocate for DEI work, a podcaster, author, and have worked at The Evergreen State College as an Admissions Counselor and Greener Foundations Instructor. I will soon be starting a new position as the Director of the Diversity, Equity, and Inclusion Center at South Puget Sound Community College.
AP: What brought you to Evergreen?
JFD: I moved from Wyoming to Washington in 2009 where my husband, Thom, and I decided to raise our sons. Evergreen was very interesting to me especially after following a child-centered homeschooling practice with my children. Once the kids were in high-school, Evergreen became the perfect place to continue my education. I got my bachelor and master's degrees back-to-back. I would say Evergreen's diversity, multicultural community, social justice, and advocacy drew me in, especially the freedom to think and be the student you want to be.
 AP: You are a dual graduate at Evergreen, receiving your MPA recently this past summer, how was your experience pursuing an MPA?
JFD: Challenging, I started my MPA during the pandemic, which was difficult. However, the foundations of the program were very powerful and kept me grounded as I studied ethics and leadership. My two classmates, Lexi and Joe, became my family in the process and they were a wonderful gift from the MPA program experience. Over two years we worked towards our capstone which was "Houseless to Holistic, the tiny house village evolution in the PNW and across the US". I also published my memoir The Last Sandstorm while finishing my MPA, which I had started during my senior year in undergrad when I was pursuing an independent learning contract (ILC).
AP: Were there any classes or faculty that inspired you while at Evergreen?
JFD: ILC and Sara Huntington. The ILC was the biggest draw for me to come to Evergreen. I knew I wanted to focus on writing, ethics, and cultural studies. Sara Huntington (retired emerita faculty) was literally everything, she changed my life. I followed her around to in all the programs she taught, and I spent all 45 credits of my ILC with her. It gave me freedom to look at how I wanted to dissect this project, create retreats for myself, understand what it takes to write a book and focus on editing, publishing, etc. It's the book portion I wanted to focus on and learn more about as opposed to the writing. For retreats I went in the woods writing, attending writing events, or listening to authors. None of this would be possible without Sara, who became the editor of my book.  Sara heard me and 100% honed in on my needs, I felt heard, seen, and she was everything I needed from a faculty and what a faculty should be. It was transformative for me.  
AP: What inspired you to write The Last Sandstorm?
JFD: When I first came to America, I knew my story was unique. I was the first woman to successfully escape Saudi Arabia without any horrific consequences. At the time, in 1999, my kind of story was unheard of. Then 9/11 happened shortly after I immigrated to America. There was so much hate and misunderstanding towards and about the Middle East and the people from those areas after that attack. I felt obliged to be a part of panels and talk with communities to educate them about Arab peoples. In turn, these communities in Wyoming embraced and protected me. Because of this love and care I felt the responsibility to give back and talk more openly about my experiences and my cultural heritage which I did through writing, teaching, and speaking. Recently, the murder of the Saudi journalist, Jamal Khashoggi, also inspired me to stand up and use my voice. Since I left Saudi Arabia there has been a rewriting of history and that did not sit well with me. There is a responsibility to preserve history and not erase the truth;  in my memoir, I hope I captured those moments in history. I felt like I was being called to do this work.
Excerpt from The Last Sandstorm description:
In her memoir, "The Last Sandstorm", Jasmin Faulk-Dickerson tells the story of her first 25 years in Saudi Arabia, before her daring escape to the West. The author was born in the 1970's and grew up in the shadow of Riyadh, a city that was burgeoning into economic modernity, a sharp contrast with its archaic treatment of women. This memoir is both a coming-of-age story and an immigrant's saga, two overlapping narratives that are told with generosity, humor, and a pervasive sense of longing and loss. The narrative documents what it means to grow up with unanswered questions, strive to conform and belong, and finally, dare to leave behind a family, a country, and a way of life–the known world. In turn, Faulk-Dickerson invites us to take measure of our own potential and to participate fully in our own lives.

While Jasmin experienced the privileges and privations of being female in a conservative Muslim regime, she survived and thrived by daring to imagine an entirely different kind of life. Jasmin shares the particulars of her daily life–school, Muslim customs, popular culture, family life, friends–that create a palpable sense of what it was like to be loved but also thwarted by circumstances. Out of sight of the censors, Jasmin became an aficionado of popular culture, drawing on music, dance, film, and TV icons from Europe and the United States. In the privacy of her bedroom/studio, she became an artist, performer, and feminist freedom fighter–a magnificent leap of faith that eventually translates into the courage to leave.
AP: What do you hope readers take away from The Last Sandstorm? Did you have any takeaways or aha moments from The Last Sandstrom once it was completed?
JFD: What I hope readers will take is the fact that our stories are ours to own and to tell. We all have a common thread even though there are differences in our experiences. The common thread in this story is that if you are silenced for being who you are, there is a way to get out, stand up for yourself, and to be unsilenced. I believe in an environment where you can affirm who you are. The other part I hope readers take away is a better understanding and awareness of a part of the world that is not well known and remains mysterious. Which is what also led to my podcast and sharing other people's stories.  My podcast is called, I Want You To Meet, where I interview inspiring artists and activists through educational conversations.
My aha moment once I completed the memoir was the fact that as a young person, I had no idea how strong and resilient I was. I was so impacted by the upset, anger, frustration, and trauma from my confusion about growing up in Saudi Arabia. I felt that I finally validated myself on a personal level after writing the book, nothing is more powerful than validating ourselves.  
AP: Who or what inspires you?
JFD: What inspires me is compassion and honesty. While there are many individuals who inspire me, my sons inspire me to grow and change, they challenge me every day. Also, Gloria Steinem inspires me, she is everything I wish I could be; she has a wise, soulful, calm and committed style of advocacy I hope to achieve someday.  
You can purchase a copy of Jasmin's memoir, or learn more about Jasmin and her advocacy work and podcast, on her website.