Employer Guide to Using CODA
EMPLOYER LOGIN TO CODA: Now Hosted by Handshake!

Creating a CODA/Handshake Account
1. Create a user account 
You will need a user account in order to log in and use CODA. If you've received an invite from a school or a colleague, you can follow the link to take you to the account creation process. If you're signing up without an invite, go to https://app.joinhandshake.com/employer_registrations/new to create an employer account.  You can view the details of this process, with screenshots, by checking out How to Create a User Account
Troubleshooting tips:
If you're having difficulties receiving the confirmation email, try checking your spam and junk folders to ensure that emails are not being filtered out. Add handshake@m.joinhandshake.com to your email contacts or address book,
2. Join your existing company/institution on Handshake, or create a new one
You will need to be connected to your company profile on Handshake prior to taking any actions with schools. Your company should pull up based on the domain of your email address, if it is already in Handshake. If it isn't, you should see the option to create a new company profile. You can learn more about the new company creation process here. 
Troubleshooting tips:
Use your corporate or institutional email address if you have one. This will ensure that your company profile is shown to you if it is in Handshake, and can expedite the process of connecting to your company. Schools also will tend to decline users with generic email addresses. 
The goal of this step is to connect you with your company, not schools you'd like to recruit from (that comes later). For example, if you want to recruit from Stanford, do not list Stanford as your company. On-campus employers are obviously the exception to this rule. 
3. Request to connect with The Evergreen State College
You must request and receive approval from Evergreen prior to posting jobs here. You can choose us during your sign-up process, and can always select more institutions at any time afterwards. 
Troubleshooting tips:
It can take up to five business days for a school to approve your request. If you do not receive a response within that time frame, contact the Student Employment Office at seo@evergreen.edu. 
4. Take action!
Once you've connected with us, you will be able to post jobs.

Posting a Job
Follow the steps below to create a new job posting.
1. Click Post a Job from your home dashboard, or click on Jobs in the left hand navigation bar and click Create Job in the top right hand corner. 


You will now be asked to complete 4 tabs in the posting. These include the job Basics, Details, Preferences, and Schools (this is where you designate The Evergreen State College). You also have an option to use the Preview tab to see what your posting will look like. 

All fields are required, save for the fields that state "(Optional)" next to the field name.
Best Practice: the more fields you complete, the more well defined your job posting will be (and the more likely you'll be to attract well-qualified candidates and approvals from schools).
2. Job Basics:
Where should students submit their application? 

You can now track applicants right in CODA!  If you prefer to track applicants by having them submit applications directly to you by email or via another applicant tracking system (ATS) you can select "Apply through external system".  A text field will load below the Job Title where you should enter the ATS information or the website for your company/institutions/department:

When you click on "+ add an ATS/job code", the fields will load for the optional System Code and required URL: 

Job Title

Fill in the appropriate title in this text field. 

Company Division

If your company has Divisions set up, a drop down menu will appear right below job title. Make sure to select which division within your company you're hiring for. If you need help adding a division, check out this article here.  *This is especially important for internal Evergreen employers.  Please be sure and select your division/department or add your division to ensure applicants are directed to your office.  

Select if you want your name shown on the posting
Add a Job Type
Add an Employment Type & Duration

When selecting Temporary / Seasonal, you'll need to add both the start and end dates. 

Work Study Job
3. Once you're finished with Job Basics, choose Next toward the bottom middle of the screen, or you can click the Details tab. 
Add a Description for your job

If you copy and paste a description from your own website, we'll retain all of the formatting for you

Add how many students you plan on hiring for this position. 

This does not affect your job in any way, but rather is used for historical, data, and tracking purposes. 

You can add a Job Salary if you'd like. 

You can also toggle the dropdown on the right between per year / per month / per hour, or mark the job as an unpaid position

Enter a location for your job

As you start typing the address, some suggestions will show up in the address field - you must select one rather than manually typing it in.
This can be a specific office location, or a general city like "Chicago, USA"

If you are an Evergreen employer please use the College address

If this position is located in multiple locations you can select Add Another Location
If your job is in the United States, you'll see an additional "Eligibility for international students" section appear. We'll talk about that below.
Choosing a job location in the United States, will prompt a question: "Does this position require U.S. Work Authorization?" Choose yes or no as appropriate for your position.

If you do select "yes", you'll see the following questions appear: 

Select either of the options that appear, or read more about them with the additional links provided
Finally, if you'd like for a student to submit documentation in Handshake, you can select Required documents which will be required for students to submit with their application.

TIP: If you're having students apply via your Direct ATS and don't want them to apply in Handshake at all, we recommend not selecting any documents here. If checked, these documents will prompt an applicant to first apply with these in Handshake. 
Note: if documents are not required on the job, then you will be unable to select a contact to receive applicant notifications, and your contact information will not be displayed on the job.
4. Once you're finished with Job Details, select Next, or click directly on the Job Preferences tab.
Note: all of these preferences are completely optional, and none of the preferences you add to this page will block students from applying for your job. We will show you candidates that meet all of your preferences, and those who don't. 
Add a Graduation date range for your job by specifying the earliest and latest graduation date for qualified applicants

If you prefer to qualify students by School Year - like Freshman, Sophomore, Junior, you can select the link below to toggle to that option instead.

Add a Minimum GPA value.  NOTE: The Evergreen State College utilized narrative evaluations rather than traditional letter grades.  When recruiting at Evergreen do not set this preference.
Choose which Majors would make a student qualified for your job. By choosing a major category, you are mapping your major preference to each schools' individual term for that particular category.

NOTE: The Evergreen State College has Pathways and Areas of Emphasis but no formal majors.  When recruiting at Evergreen do not set this preference.

Finally, configure who should receive Applicant Packages, and with what frequency. 

Note: If you have not required a document type from applicants, this option will not appear.
Setting up who should receive Applicant Packages
The job creator's name is listed first. You can also add other team members to receive packages by choosing from the dropdown. If you haven't added them as a contact yet, there will be + add new contact at the bottom of the dropdown.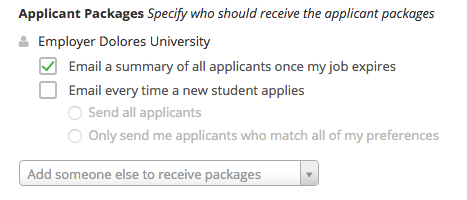 5. Once you're finished with Job Preferences, click Next along the bottom of your screen, or click the Schools tab. 
Add The Evergreen State College using the dropdown, and you'll see us appear in the table below

Note: if your company has not been approved to post jobs at a school, you will not see that school as an option. If you have not been approved at any schools, you can still create this job and come back later to add schools. 

Once you've added schools, you'll see a few options to manage them

Remove a school - The (-) to the left of each school allows you to remove it from the list
Apply start date - you can choose if you'd like to block students from applying to your job until a specific date.
Expiration date - you can update the date that the job will expire at that school (and students will no longer be able to apply).

Adding a Global apply start date allows you to update the job start date for every school on your list (it will overwrite previously set start dates).
Adding a Global post expiration allows you to update the post expiration for every school on your list (it will overwrite previously set expiration dates).
6. Select Next or Preview on the bottom navigation to preview your job
If you're happy with the job preview, click Save in the lower right corner to save the job and send your posting to us to be reviewed. 
Once the job has been saved, Handshake will automatically tag up to three job roles based on the title and description. For more information, refer to About Job Roles.
That's it!  We'll review your posting and approve it to go live. 
If you have questions or any issues with this process you can reach us at seo@evergreen.edu.